^
Please vote for this blog! Stumble or Digg it! TY~
Rockin & Roll at The Hollywood Bowl prt 2
Note: Yep, I'm having a hard time finishing these posts..
Today, was the day. The 1st of 2 gigs at the historic Hollywood Bowl. Excitement filled the air!

note: starting this posty tomorrow eve, Friday~ :) oops Saturday.. Gig day, wooohoooo...
I couldn't sleep well the night before wondering, what exactly, was in store for the Hollywood Bowl.. I looked forward to hearing Rock Show as the opener. I met Barry, a huge Santana fan, who told me a cool story of meeting Carlos Santana on his birthday- he, Barry, picking up Carlos and giving him a huge hug, after Carlos tapped him on the shoulder wishing him Happy Birthday. Shoot I wish I could hug Paul, I told him. This was the 1st Paul McCartney gig for Barry and his wife Paula. I told him, you are in for an incredible night. I still had an extra ticket for Wednesday's gig I wanted to sell, for the Terrace section.. would I be left with an extra ticket..?

April 19th
I don't have a valid reason why I haven't finished these bloggy posts. I suppose it's because.. I am having trouble with piccies.. also, to much work lately. Yes, that must be it. I am also recalling it was the year ago today. Paul played the Joint in Las Vegas.. another wild, tiring, foot burning- dehydrating night. lol Yes, I remember it well... YOU, remember it well too, those of you, who were there.
April still-ha!
Hey people.. How are you? massive work lately has prevented me from clearly writing this blog post ..so I will commence. I was waiting for Elizabeth & Keith who had drove from Sac.. to join them in The Macca festivities at The Bowl.. as we entered the Hollywood Bowl and made the small climb up the hill. I was impressed on how serene and woodsy the place felt, a cool vibe, not far from the venue the Hollywood Hills. There were countless booths everywhere, selling McCartney tour memorabilia, with lines an hour deep. Scratch that. No way, was I, going to wait in line from pushy fans. I wanted to take it all in, the scenery, the sites and the excitement about to take place in one hour or so.. From all the beer & spirit booths I wittnesed one can guess, those of age were feeling no pain, as I was about to partake in the drink fest of a pint- care of Barry & Paula.. We went to take our seats.
l
ast row of the Terrace section
Sheeesh as I hugged Elizabeth who left to take her seat .. she & Keith were in the bench section.. Me in the last row of the Terrace section far left. What!! I paid $390 for this seat? the stage felt a mile away. Me, being concert spoiled. I Love being on the floor close to the stage were all the energy, excitement and action is happening . dusk settles and the video show begins - of Paul McCartney, his early years, Linda & family and The Beatles, many fotographs that were incredible- which I have never seen before. Back ground remixes of Macca's work- danced in time to the scrolling video .. Freakin Awesome !!! Great Job on the video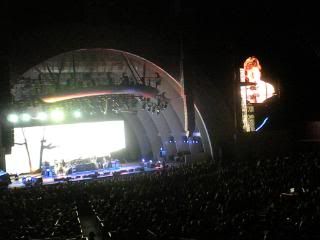 This gives you an idea where we were sitting the first night. ha!
May 17th
having a hard time completing this post..duh...
The lights dim and out comes Paul and the band pint sized from my vantage point. It was brilliant, they opening with Rock Show.. the crowd was ablaze.. and so were the people sitting next to me. Come to find out it was one of the boardies from Paul's webby. He and his family had flown a 17 hour flight from Peru.. Their first  Paul McCartney gig! Wow!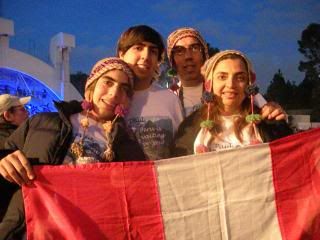 Rodrigo Guerrero- and family left from Peru. They had a sign that said 'Paul Come to Peru' I believe? They were great. The couple in front kept yelling for them to shut up and sit down. What a freakin ass. Why do people go to gigs if they cannot enjoy themselves?
My memory is getting fuzzy from that night since, I had wayyyy to much to drink afterwords at the Hide Out,  where, I met some of Paul's people that work for him. A brilliant bunch... as me and some friends entered, they were playing Beatles & Paul McCartney music, Right on!!!
Met some of Macca's crew 

So. I walk up to the bar and I hear some guys say brilliant hat! Well thank you, I tell them.. I mentioned how  Paul's voice sounded a bit rough in the beginning of tonights show. A man with a British accent, told me.. Well, Paul, uses his voice for many hours. From the sound check of almost two hours. Meet &  greets which takes a few hours too an almost 3 hour concert..
Wow, I never realized how Paul, used his voice so much before a show as  "Grubby" told me. It put it all into prospective... ha!! They said 'we see you at every show'..  Every show? well no. We are at every show they tell me... huh? We work for Paul... ahh. A Nice bunch of fella's. I met Grubby, not sure what he does- sound checks? the Piano guy- never got his name due to some female who kept interrupting. Shaky the pyro guy.. and Omar who had bought me a drink... what does Omar do? lol I did show them a piccie of Paul on my camera from the Dallas show.. they said it looked professional..Well, I got lucky my camera died once again at the show~ also one of Paul's security Brian was there - He seemed like he didn't want to be bothered- Sometimes security is friendly and other times?......Well you know how that goes. there were so many questions I wanted to ask. but I felt kinda shy asking them~ lol
So thanx to the guys behind the scenes Grubby, Piano guy, Omar, Shaky~ and? for all the wonderful work you do, in your efforts to put on a brilliant show!! clap clap clap! You're a great friendly Bunncch!!
it has been difficult to add piccie's so once again it will take time-  
McCartney/harleyblues~ xx
part 3 soon to come this coming month`