*
*
Please vote for this blog! Stumble or Digg it! TY~
Macca Rawks Citi Field Friday & Saturday night believe that!
Note: blog post subject to updates the next few days :)
*
OK, so I am way tired right at this moment. Getting outta San Fran airport yesterday was grueling. Someone clipped me for my blackberry between the shuttle ride or JFK Yesterday. Yes, I am upset about it!!~ I hope, should some kind soul happen to- find it? I hope they do the right thing. Yeah, with all the piccies from the gigs on the fone dangit on top of it.
Funny thing is, whoever has my blackberry can read this post on my blog via my email. and if someone does, find it, and reads this post my email is : ctinaharleyblues@hotmail.com
I can pray for a good out come.. right :)
Anyhow, I will post properly about Citi Field later. I can tell you this.
Paul and the band were on HIT!!!
It rained hard -Friday. Billy Joel was a surprise. Saturdays gig was better my opinion. The sound quality better, much much better. The crowd also much better, As for myself. I was up near the front both nights Friday much better since I was closer thanx to security ( I know I am back and fourth ha!)
Whats up with Citi Field Security?!l
Citi Field security, lovely Friday-not so great Saturday..I didn't need to get yelled at twice!!~
What's up with that?!
I am one of many who they truly pissed off on
Saturdays
gig..
oh I have some names. How ya gonna be nice one day and RUDE the next?! especially when I flew from Cali to see Paul McCartney twice...where's the hospitality for guests?
There was so much security at these gigs: New York's finest, Jerry a 13yr vet I met. in A1 sec. liked my hat and took a piccie of it. He was friendly. Than you had the Boss's white shirt dudes. One very friendly guy said hello twice both nights. Than the Supervisors in tan shirts. Than maroon shirt front line security. The security on Friday were very friendly in the A1 sec. near the stage. Lammont, Jim or Jimmie & others who I didn't get their names, too bad. Thank you for being a friendly, NICE, bunch. Saturday's bunch,
you guys sucked!!
more on that later.
Oh, did I mention I lost my tix on the way into Saturdays gig?!
more later, long post with piccies- thanx to a fan..
Piccie's from Maria Younghans aka Music Keeps Me Sane
Friday started out to be a great day with the exception on catching a cab.. hahahaha it took 45 min.s to get to Citi Field.. most cab drivers, we came into, wouldn't take us to the stadium we were getting a bit worried wodering if we would ever get to the gig.. Once there we enetered the Bullpen enterance.. the energy was high at Citi field all staff friendly & warm. I liked that!..went to sit down and saw few a fans from Paul McCartney.com they nusta noticed the hat. :). The Script, came on they weren't too bad. Love the songy "Rusty Nail" & a few others.. It seemed the Scriot were a bit nervous as Friday nights crowd were luke warm to the band. But when the lead singer mentioned Paul McCartney's name, the crowds ears perked up with cheers. I thought the Script were very good.. Better on Saturday..
I went down towards the front of the stage since I was in this sec. A1. I asked security if I may stand here during the gig. Sure, they said they didn't mind. Wow, they were a great bunch there on Friday night. Laughing and joking around they placed a guard rail up so we couldn't go past-fare enuff It was a great spot. They didn't let anyone past on friday. Until the middle of the gig. I must say, I'm down was one of the best joints of the entire gig.
.
I dropped my mouth in amazement cuz Paul has never down this one before. a huge WOW! No It was Effin Brilliant Paul!! the video posted below does it no justice.. The sound was slightly off on fri's gig however it was crystal clear & qualty on Sats. gig..Paul joked with the crowd when he first did this at Shea Stadium years ago all he heard were screams from the girls.. All the females in the house began to scream & I mean scream loud.. Well shouldn't we? heheheheh There was alot of impromptu jamin during both nights that got the fans going. Billy Joel, came on stage to the surprise of everyone sitting at the piano doing Saw her Standing There with Paul & The Band pounding the keys.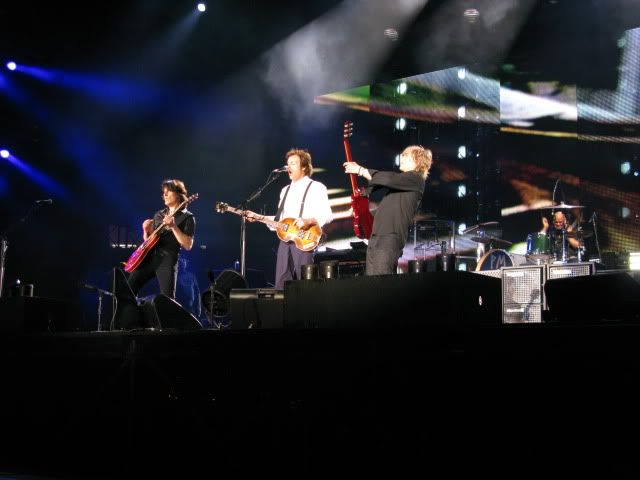 It began to rain early on. Than really hard!! hahahah I didn't mind. It was cool I thought. when fan gave me an extra garbage bag which I held over my head..Loved the rain. during Band On The Run a huge bucket or tarp posted at the front of the stage on top came down in a huge pour the band jumped back. During this time Paul & The band looked towards my direction. I think they saw me, no one was in front of me, as I waved and danced around. I was soo into fridays nights gig I had so much fun!!!! Paul asked if we minded the rain? No we all chimed. Another Highlight was a Day in a Life/ Give Peace a Chance. It was a moment. I got goose bumps I looked into the sea of people posted up top-amazing. It was a moment. as was Paul ded. Here Today to John an emotional rendition. He almost began to cry &; I said awww Paul, don't cry. This got me misty. A beautiful My Love ded. to Linda. Linda a lovely girl from New York, Linda loved New York. Paul said, This is ded. to her and all the Lovers in the house. You know who you are..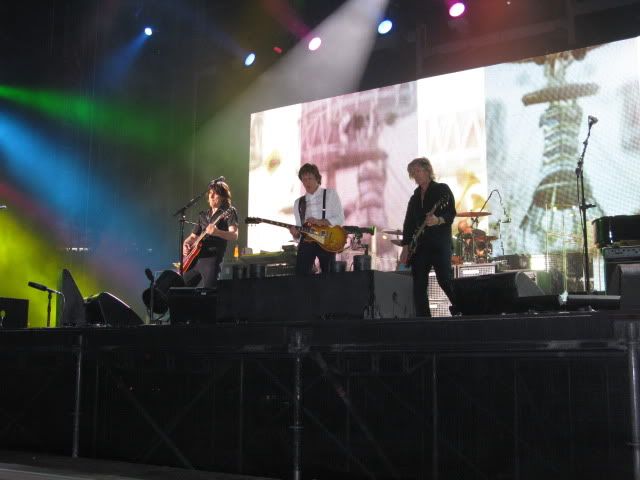 It was such a wild good time Friday night - I was so proud of Paul and the Band. woohooooo! I can't remember much more ofFridays gig. I Got A Feeling was an extended version with The guys wailing on the guitars,,,, that was truly rawkin! As was, Mrs Vanderbuilt- Got to Get You Into My Life- Day Tripper-Calico Skies-Helter Skelter. Will post, as memory recalls..hahahahaha When we exited Citi Field we went to catch the 7 train back to Manhattan. Suddenly, thousands of people began to sing a Beatles song. Trying to find video, ha!
foto's below Rick G, aka Fans On The Run

www.Beatlesfan.com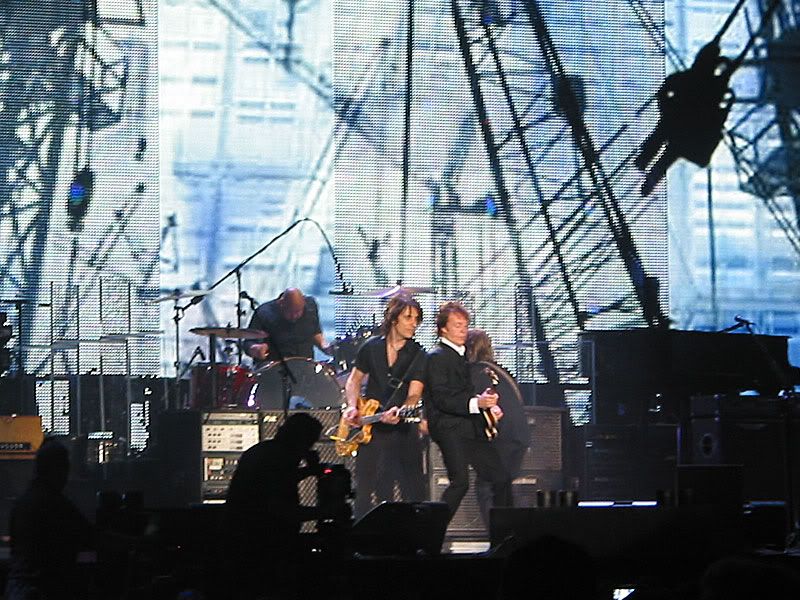 So, Saturday we decided to take the 7 train to Citi Field- nice lil ride..Aafter walking under the bridge on the way to the Bull pin trying to figure out where we were? I noticed that my tickets that I had just purchased hours ago were gone!!~ Oh, HELL NO!!! We retraced our steps and than, the blackberry rings? Hello? is this christina? Yes, This is guest services- We found your tickets. OMG! I couldnn't belive it. I went over and met up with Scott seen right with me. He handed over the tickets.
Man, I hugged him and thanked him so much for finding them. Evidently, he saw the tix fell outta the bag. Wheew, close call, I had purchased these tix has tix for the floor sec. why? becuz security told me, the night before, IF, you happen to get to the floor we will let you into the front!!! wooohooo right on! So inside we went. It was decided that we would give away these extra 2 tix to fans that were seated in the 503 sec.the tip top of the stadium. This took me bout an hour to find someone who, didn't need more tix, weren't with family members or weren't paranoid. HA! I finally found two sisters sitting down in front of the rest rooms eating some lucnh. I offered them the tix and told them the story of getting the upgrades. I walked them to sec 129 Guest services, wouldn't let me walk them to their seats. I told the man, I am on the floor and showed my wrist band. We'll you need to go to the floor than he rudely said.
*
Wow, did he have to be so rude? this was the first of the day a huge difference from the day before. when people at Citi Field were so nice. So after milling around I finally took me seat. than went down and talked with security, I stood at the guard rail & waved my friend over to come and join me.. Me friend managed to get around the guard rail and too the front somehow. after several songs. I asked if I could come around the guard rail. Well Danny or Donnie T told me "No, Get back over there" WTF?! I felt the tears welling up. But security said I could?. I couldn't move. I was pissed. I even ran into the supervisor of that area, Who said Well, there is 85,000 people here they have to control the crowd.
I informed him or his guy's demeanor. Well it happens to the best of us. That's an excuse. I am only one person. I spent extra money only to be lied to by Citi Field security, What a freakin drag. All the while people were filling in around the guard rail 5 rows deep without the security tellin, THEM, to get back to where they were standing. It messed up my night as I tried to scramble to find tix, that day, for floor to Saturday night. I was trying to cheer myself up towards the last hour or so singing with Paul & The Band. I noticed Rusty pointing over my way during "Saw her Standing There" that made me laugh & smile. Saturdays gig was much better in sound quality. Paul & The Band seemed to be having fun!!!~ more details later hb~
fans on the run
fans on the run
fans on the run
Fans on the Run
fans on the Run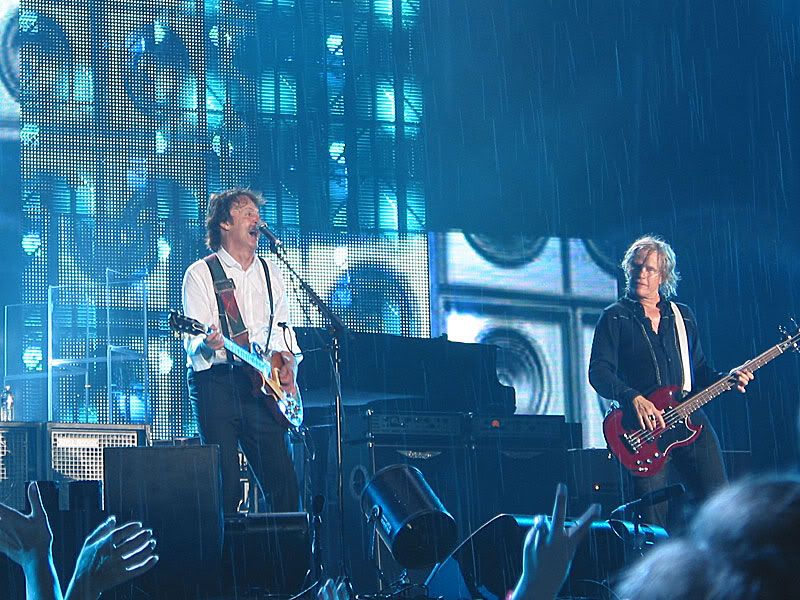 fans on the run