*
*
Please vote for this blog! Stumble or Digg it! TY~
Paul McCartney bout to rawk out Novia Scotia, Souncheck!
2pm there abouts-
plus, vid at end of post of girl gets Paul's autograph on her arm!!~
double note: The girl Macca's_Tuba_player was the one who got her arm signed- a member of his webby. Freakin Coolio~~~ see her post at end of this post!!~ hahahaha :):):)
note: 7:23pm
The Canadian Press says:
McCartney opens massive outdoor Halifax concert with 'Drive My Car'
Nice lil article no setlist posted, more highlights posted on bottom of thread!
Ok, for us not there in Halifax, here is a small message from Paul & "My Band" during rehearsals in England~ Love it! I would have loved to be here cuz, I have never been there..
The sound check makes me feel like I am there, now-below. Damn, Paul is gonna do Mull of Kintyre?! Dang, I have never heard Mull live!~ or alotta other Beatles, McCartney songs for that matter. Will there be surprises for the upcoming gigs?!!!
Wow, right on, just heard from Brian. B. that message made me laugh my ass off!!! hahahaha
Rawk their socks off fella's~ :)
Macca & The Boys rehearsing for Halifax~
Macca Message bout Halifax & New York Citi Field- lol Yeah Paul, penciled my calender and posted on my blog last week or was it the week before? ahhhh :)
Soundcheck Halifax, Nova Scotia

Paul McCartney's sound check last night July 10th in Halifax
Thanx to DeathBox Prodcutions for providing a snippet of the sound check for us sorry souls who couldn't be there! woohoooo!! I love how they break into Yakety Yak!!~
stay tuned!!!
hb~
hey Elsa if you talk to Brenda I saw this article in
ChronicleHarold.Ca
where she is interviewed.

a few highlights of the Halifax gig!
piccie's via the web
Another great read from
The Canadian Press
Paul and the band play nearly 2 hrs. & 45 mis. Very good!~
Macca, Does Mull of Kyntire. Oh man! Day Tripper.. Also, check THIS! a teenaged female Fan holds up sign asking Paul to sign her arm.. so she can have it tattooed?! Paul, brings fan onstage ... signs her shoulder.. Man that shoulda been me- to go with my other tattoo's!!!!~ woohoooo~
more below....
She ran around the stage hugging the band! Than security escorted her off?!~
hb.Oh double OMFG!! said Paul:
"You'd better get the tattoo done now," he said as she left to laughter and cheers.
Paul I'm not a teenager but. could you sign my arm forget the shoulder I'd show it off DAILY!!!
hahahaha~
Teenager who got her arm signed by Paul McCartney~ Incredible!!~ :):O)
More later!!
A dream come true for one teenaged Macca Lover~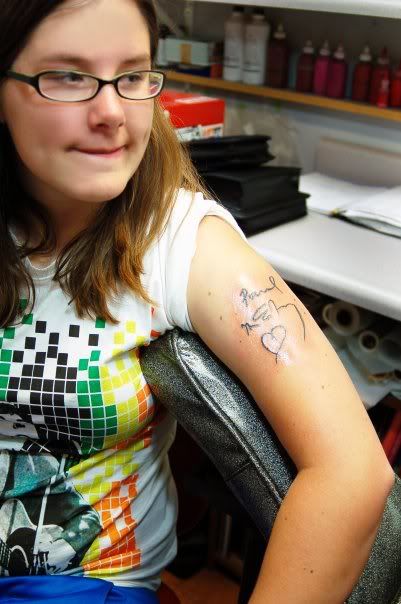 OH MY GOD!!!!!!!!!!!
I made my sign that said "Will you please sign my arm so I can get it tattooed on?" and I held it up during Calico Skies because I knew he was going to talk about signs afterwords. The first time he saw it he looked so puzzled!!! Newxt thing I know I'm climbing over the barricade and
I'M GIVING PAUL MCCARTNEY A HUG!!!!!!!



Then he asked me where I wanted it and I pointed and all I could say was OH MY GOD!!! Then I turned to leave and I saw Rusty and decided to give him a hug too....then I thought, well, why not the whole band!!!! So I went to Brian and then went over to Abe and told him that I saw him with Eric Clapton like a week and a half ago, then I got up and gave Wix a hug!!! ........Audrey's new Macca tattoo above

They were going to put me back in the crowd, but I was freaking out so much that they took me to the medic tent and I sat there crying with happiness and drinking water. Then when they went to put me back into my spot Paul said "Ah here she comes, all tattooed!" and was looking at me and I mouthed "I love you, I love you so much!"

I've got an appointment today at 5 to get it tattooed on!!! The reality still hasn't sunk in!!!
Maccas_tuba_player~



what a night!

hb~