*
*
Please vote for this blog! Stumble or Digg it! TY~
Paul McCartney at Cowboys Stadium and Sound Check
hopefully I will upload pics tomorrow and finish this post xx
Yes, this post is taking longer than I like. I appreciate you patience...hb
Hello people, it's friday- late night and I'm still trying to re collect my thoughts of Macca & The band at The Dallas Cowboy's Stadium-whew! It might take me a day or two, too complete the actual post. It's going to be a long one so please stay tuned!! It was a great experience! (hope the pics came out)
Dallas airport ha!
I arrived at DFW around 10:05 pm Tuesday night waiting on friends to pick me up outside .. My mom called.. So we talked a lil bit about the Beatles. I said Mom you don't understand?! Paul< The music & God are the only ones that have been with me- all my life.. Oh, I don't understand says my mom. I do understand!
Lemme tell you, when you were a toddler, your father was learning how to play acoustic guitar- and all he would ever play was 'Hey Jude' Over & over and over & over..
Well did he play it well?..................Eventually!....... he did...., says my mom..
I hate, 'Hey Jude' she said. He would play it
non stop
all the time! He than, learned to play other Beatles songs and got rather good at it!~ So, It's been ingrained in you since you began to walk, The Beatles music that is..
I just want to thank Paul for being with me all my life, I tell her.. God & The music have been there for you- not Paul, she said. I do understand, why, you love the music so much and it started with your father & Hey Jude. Geez~ mom.
An hour & 20 mins later, my friends, picked me up ..as I stood outside the airport it was hot & breezy... Yeah! so here is Nellie & Mike to pick me up at the airport. I had worked part of the day my flight was delayed so they put me on an AA flight I arrived an hour earlier.. It was about 2am when we went to bed.. Up at 8:30am
6 1/2 hes sleep!
We gotta see Rusty at Guitar Center!
So we get ready to meet Rusty, than to the airport to pick up Miguel who flew in from Mexico, than back to the Cowboy's Stadium- So off we went, to The guitar Center, to meet Rusty Anderson buy his Cd etc.. We made a quick stop at the store to get a belt.. my shorts were too big!! lol than off we were..
Me on my way to meet Rusty Damn, I hate takin piccies
When we got there, Rusty, was taking a few more pics.. than he picks up a box to leave.
I said Rusty, Dude, you can't leave yet. We just got here! It's me the one with the black hat! I showed him the black Macca hat. He smiled and asked me my name.. I was gonna tell him harleyblues, I told him my name.
I couldn't get over, how tall, Rusty was- with very blue eyes. Finally, after all these years it was cool to meet Rusty. He is a brilliant guitar player. He said he had to leave. I told him it was early it was 1:45 pm he turns to leave and says
Got $10 bucks? Yes, got change for a $20 we pull out dollars .. I tell Rusty see you at the Sound Check. Oh, that pesky sound check Rusty said.. lol he hands me his new Cd unsigned.
I feel silly to ask any of the band for a siggygraph :)
See you at the gig he says with a nice smile & tap of the shoulder. He was out the door.. Nellie, didn't get a chsance to meet Rusty, still fumbling with her camera- all the while asking Nellie if she has gotten a piccie of Rusty? Rusty gets into his car when a blond women name Sherry runs up to his car and hands him a Boquet of flowers. As I looked on I give Rusty, a peace sign, and I'm guessing he threw one back as the windows were tinted... I saw a hand gesture of some type LOL~
Than it was a mad dash to DFW airport!
s
o I now have my camera being charged cuz It died during the gig.. so its gonna be hours beofore I'm able to download piccies-
Ok, I know! :)
We went to pick up Miguel, who had flown into Dallas from Mexico. It was his FIRST EVER MCCARTNEY GIG How cool is that?! We were in a hurry, since I had to be at the Sound Check by 3:45pm.
First stop was Best Buy, as I wasn't sure what camera to buy. I had got piccies at The David Lynch charity gig with my Blackberry. didn't have my Blackberry in Las Vegas t- when Paul was at the Joint. Didn't have a camera , or my blackberry the first night of Citi Field, NY Had it the 2nd night.. took some cool pics. However, as you know, my Blackberry was stolen. I was determined to have a camera for Dallas. so I got me a Nikon 5 "Z point & shoot. My first digital camera. I was worried how pics would come out.
We got to the Cowboys Stadium with a quickness and the Hospitality people & Security wouldn't LET US IN!
They said I needed a blue pass- well it's kinda ironic when we were on our way to the stadium Fed Ex called and said they had my package.. you know the laminent & the Souvenir.. Sorry, I can't pick it up I'm in Texas, on the way to the Cowboys stadium! Thank Goodness they finally let us in the parking lot since I had printed out the instructions for the VIP Sound Check- We waited another half hour than inside we went~ woohooo
The Sound Check & Talkin to Macca-Well Sorta? ha!
But of course most of my piccies didn't come out!!
Ok here is the short version of what happened at the sound check......
Ms. Shelly, as I found out her name to be, ( she works for Paul) leads us into the stadium talkin about the huge video screens and how beautiful the stadium was... She was fun, gracious & down to earth :)
we were let inside.. were were like 10 15 feet or so in front of the sound board... so it takes awhile for Paul to come out....
Shelly said, get up sing dance take piccie's it's OK today!!~
So there is "Scotty" Brian and he gives me a warm welcome and a small kiss on the cheek ..' this ones trouble' he laughed, with his lovely accent.. he is so nice to the fans..
Rusty, Abe, Brian and Wix were on stage.. finally, after what seemed like half an hour here comes Paul.. white shirt electric blue cool jacket light pants
birkenstocks. (sp).. and black glasses comes out we all cheered.. don't ask me what he played at the sound check??
Paul, said he was inquiring again.. about the sign. .at times it was hard to hear what Paul was actually saying?.. you caught bits and pieces..
.
I do know he played that piano piece he played at
Liverpool 03 whats the name of it Liz? he was talkin to the sound guys, welcomed us.. and read the list were we were all from..Me from California.
so I began takin snaps.. and singing and dancing around.. some had signs and I held mine p.. he said I can't read the sign.. he held up his hands like they were a pair of binoculars....
tryin to see I didn't think he was talking to me..Cos I thought the sign was big enuff?
(I put on the Macca Hat ) Paul said he couldn't read- our signs again- since we were far away)_..
I didn't know what he was saying.part of the time.. as he and the band were laughing hard on stage.. I was saying "Rock it out Paul!" Of course, I was being very silly. F man, this is Paul McCartney!..Have fun! Paul brings allot of Happiness & Joy to the Heart & Spirit..
Paul said somethin bout, inquiring.. he said, I cant read your sign.. me Paul?. I said..
,
I thought Paul was
talking
to someone else? cuz I thought he could read it from where he was..It was big enuff-ha!.
As I danced with the sign... he put his hand to his head still trying to read ...Can anyone on the stage read what the sign says-said Paul? Finally they put me on the big screens as I jumped up and down .Eveyone
cheered! That was cool!!.
Paul, read the sign,... twice, someone told me.. of course I didn't have my camera out ..
I was running back and fourth with the sign.... security comes by .. you go girl! he said,....
Hey, you there, how are you, said Paul, Me Paul? Yes you! I'm talking to you, me? Yes, I'm fine Paul. How are you Paul?!!! wooohooooo!!!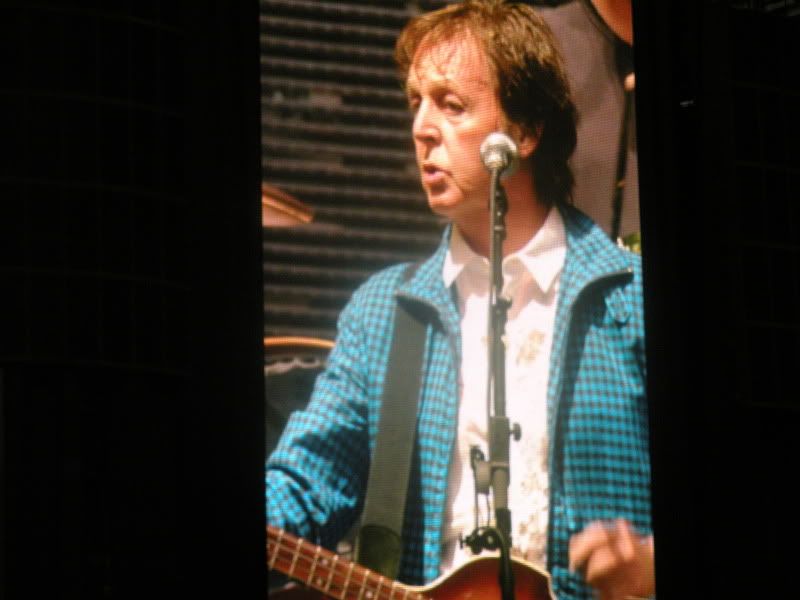 You over there- yes you!.. Hello! Hello! I'm talking to you -again says Paul.. I'm talking to you now..I'm
"inquiring now"
- says Paul.. lmao I screamed to Paul do you want me to take up the sign. .so you can read it? had no idea whether he heard me or not?! There was alot of echo
!!!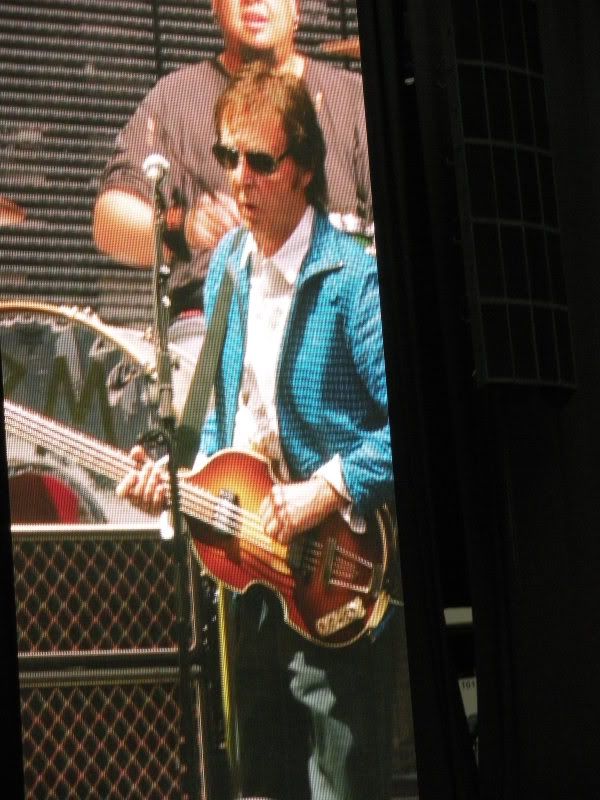 Paul was smiling as he read the sign.. He laughed actually when he read it I'm not sure
whether he got it or not!?! or, even heard me when I yelled back for that matter.. Are you having a good time he says!! Yes Paul..
hows things? fine Paul.. he said something about the sign again ....So your having a good time than? Yes Paul
!he kept yelling back somethin and I couldn't hear!! Cute, Paul was trying to get my attention!!!~ damn!!!! he kept asking me questions but I didn't hear em all . Too bad in
doublee.
I was clowning around so much back and fourth, with Paul... it was great fun!!!!
talk about a long distance conversation.. ha!


Aug 26th
more in a bit..ps I will finish up this post I promise!...have foto upload problems....
Sat the 29th
Hey ppl .. It's freakin HOT will hopefully finish up this blog posty this weekend~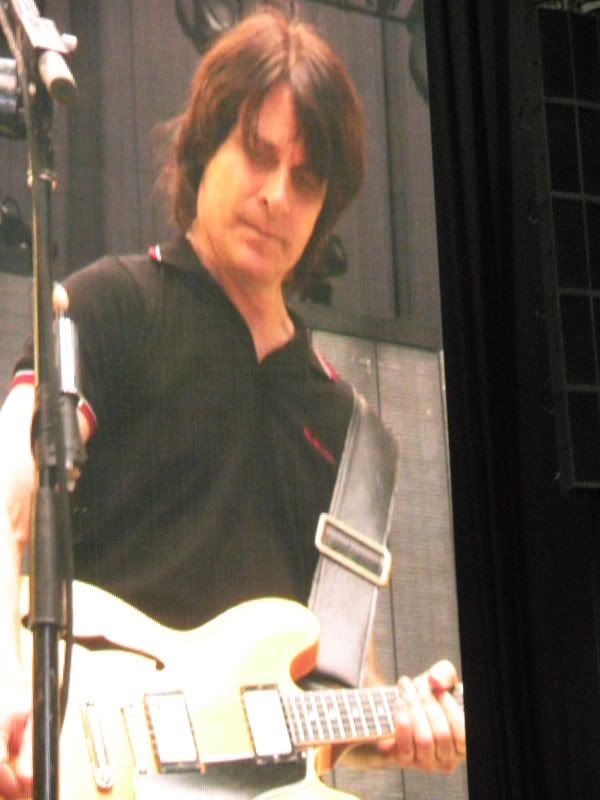 Sept 1 I got a min. to post a few lines..
Paul, had noticed fans peakin their heads into the stadium from the concourse sec. hanging onto the fence and cheering for Paul as they looked on. Paul got a kick out of it...said something to the fact- I didn't notice you over there?
.
When the sound check was over we were lead off to a private area. with cool pendant lights hanging around the bar area, tables scattered here & there to sit down for some eats.
.
The dinner was veggie and yes, it was good. One of the waitresse's kept stealing our plates. dangit, we hadn't finished our meals- she took my plate with them lil hand sized desserts on it- sheeesh.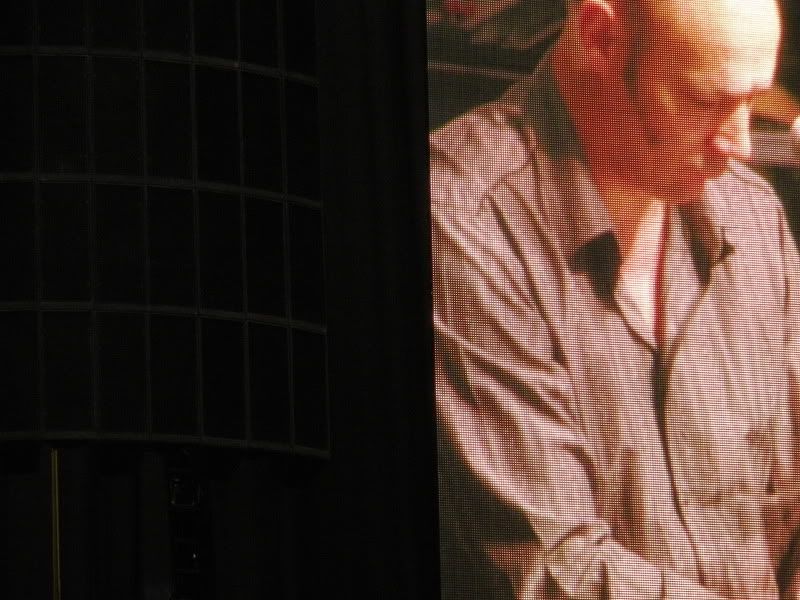 As I sat there, I could see the band the Script playing. It was cool in a way to sit there to eat and drink. looking out the window, onto the floor..before I knew it I had to get out to my seat. Tthe Script was about to finish their set. The Script was quite good!------

Rusty & Wix Sound check Dallas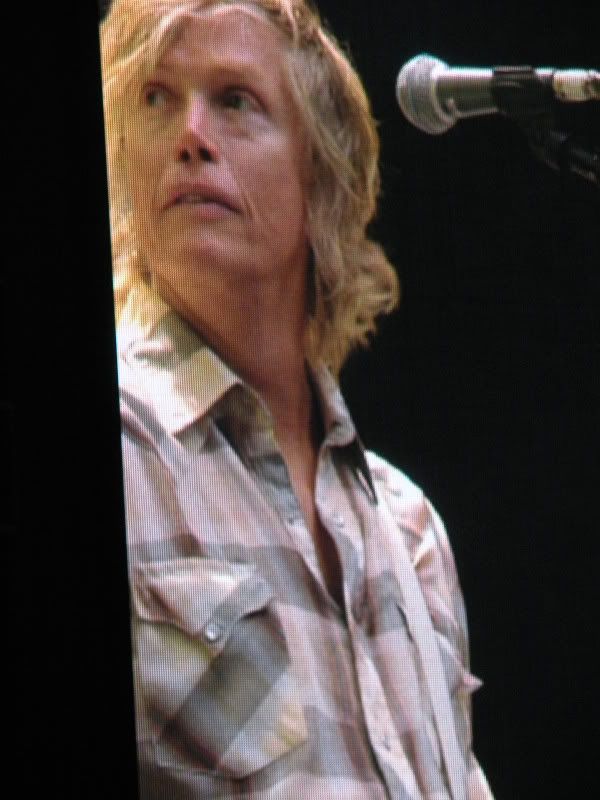 Security not the greatest again
I was in the 5th row near the isle.. pretty close. Talked to some people I knew and asked security if we could move up front once the gig started. He said it would be fine..
I stood their talkin to people. and was aksed to go to my seat, but of course, I told him they security in the pit said it was OK for me to stand there.
Dallas security gave me a bunch of crap I wasn't doing a thing. I don't appreciate being talked to in a rude manner.
Paul and the band were to come out any minute..Out they come doing the same set as in past gigs...
.
I suddenly made a dash for it into the front row. a bunch of people had ran up. No one was being disorderly I took a couple pics & sang N danced. I get a tap on my shoulder. May I see your ticket please? Sure I gave security my ticket. he says come now lets go back our seats. I told him security .....told us it was ok?
He said something. I couldn't understand. as I took me seat. a security in a black shirt in the pit stopped Dallas security and said.:
"Oh kick her out as she's been trouble all day for security. Throw her out for all I care. Call Dallas Police!" WTF?
What are you talkin about I told him? I wasn;t there all day. I had the VIP ticket! WTF?!! I told dallass security I wasn't doing a thing. He smiled and said- just stay in your seat. OK-wow~.
That bald headed guy kept looking at me the entire gig what a fuckin jerk.. Some of the people sitting directly in front of Paul and the band were rather sedate. Things didn't really start jumpin until bout half way thru the gig.
.
The Dallas gig!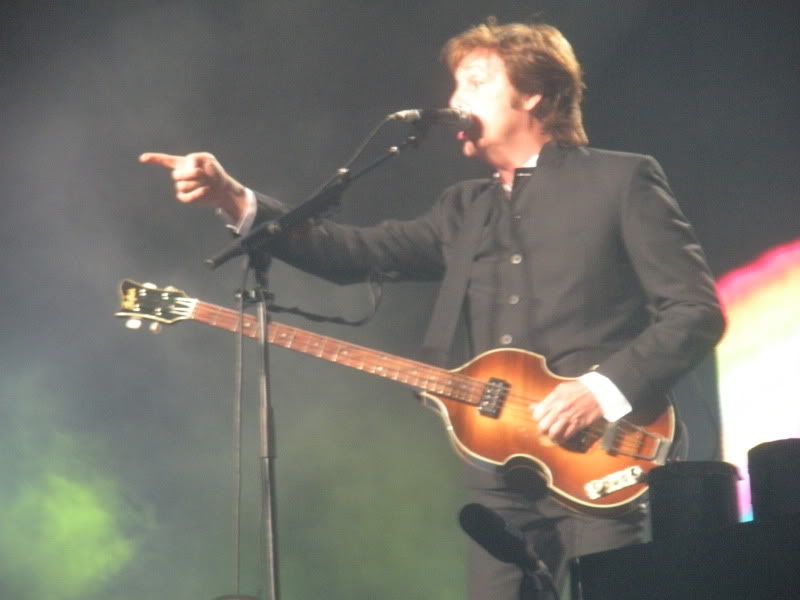 Right away Paul and Brian had noticed me and how can they not, with my
Macca hat.
. heheheh I held up my sign and Paul kinda mouthed the words. I'll read it later...smiling.. awww that was nice.
One of highlights of the gig were Yesterday- Paul almost began to cry. It was a first from what I can recall.. It really moved me I kinda got misty too..
Was Paul recalling his life. the memories of Yesterday? Was he missing Linda, John, George?
It doesn't matter how many times you attend a McCartney concert everyone is different, special and personal, than the one before.
I noticed Paul's girlfriend a few rows back in the 10th row dancing in the isle she was having a good time. But of course. Dallas security bothered her at one point too. What's with the over zealous security? Damn already..
The crowd seemed to get really warmed up around the 2nd part of the concert. People were drinkin. I tell you. Lots of intoxicated fans, trying to creep up and get a better look of Macca & The band. It was a sight as security escorted them back to their seats..
.
More soon it's been a bit difficult to put this post together-hb