^
Please vote for this blog! Stumble or Digg it! TY~
Happy Birthday Ringo!!!
So, a very Warm , Happy Birthday Wish to Ringo Starr, filled with Peace & Love Peace & Love!
ahh and broccoli-hehehe. I can't believe he is 70?!. He looks great!!
Sheesh, a friend just sent me a this message; Paul is at Radio City Music Hall with Ringo on stage.. Paul sang Ringo "Birthday"- (freakin coolio!) thanx Luuk!~
.
Memories from last year of RCMH. a gig, I surely will never forget. Paul and Ringo singing together. It was Surreal..fabulous! I hear Yoko was also there...
.
This morning on my way to work birthday wishes came across the airways- via many radio stations. Nice to hear, Ringo, getting the Love on air~ We Love you
RINGO!!!!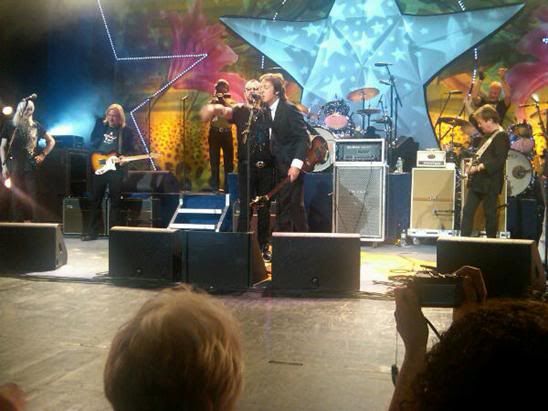 Ringo's 70th Birthday at Radio City Music Hall- Paul McCartney & Ringo Starr.. piccie credit?
from Joyce below
YES!!!!!!

Paul did indeed show up!! And played "Birthday" with Ringo on drums!!!!!!!!!!!

Here's what happened-- When Ringo sang Little help From My Friends he was joined on stage by a large group of guest musicians including Yoko! It was very nice!

Then after "leaving" this same group returned to sing Give Peace a Chance, with Yoko center stage with Ringo.

Then, Ringo's grandsons brought out a cake like a drum kit and Ringo bantered a bit about the cake, "I don't have a knife.." The audience sings Happy Birthday to him.He finally says to the audience.,""Bye, now..That's it...Peace and Love...Good night!" And as he walks off he sings, "Happy Birthday to me, Happy Birthday to me.."

Everyone leaves the stage, but after a minute more musicians return. The stage is somewhat dark,but then, a ROAR goes through the theatre and out walks Paul McCartney guitar in hand.
Ringo returns to the drums and they launch into "Birthday": The place goes wild!!!!.

Afterwards, when Ringo came down from the drumkit to greet Paul, Paul hugged him and they embraced.


What a birthday for Ringo!!!



McCartney-hb
.